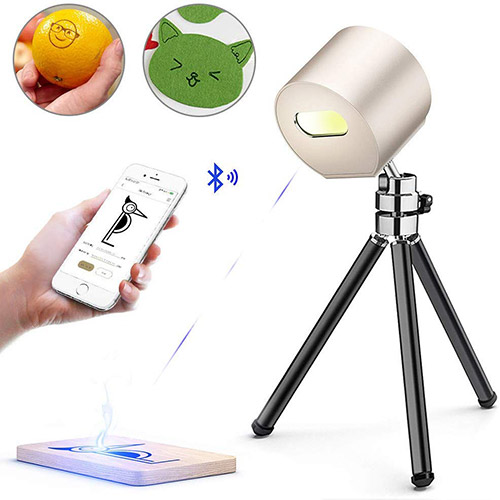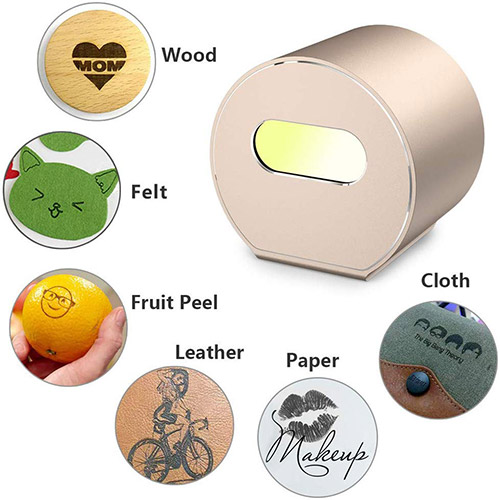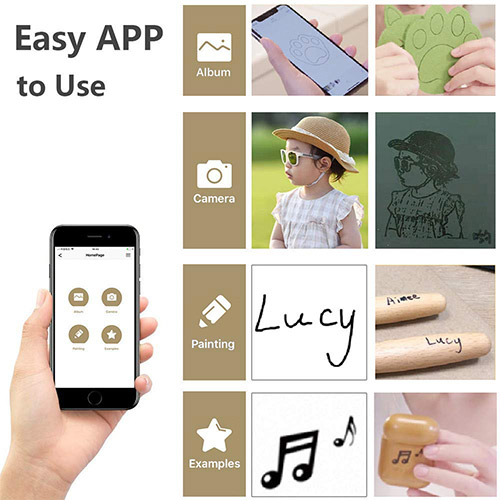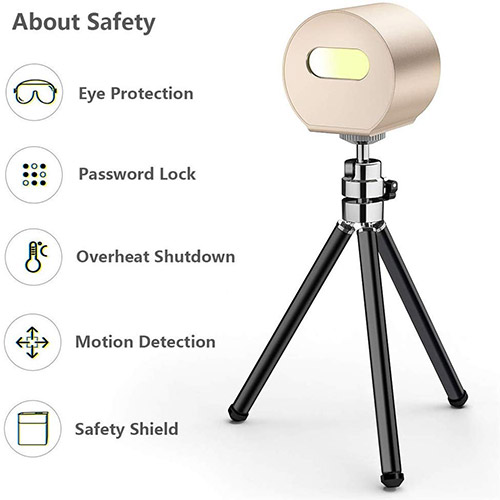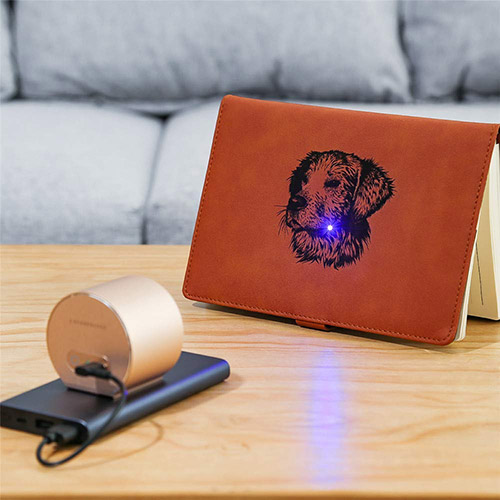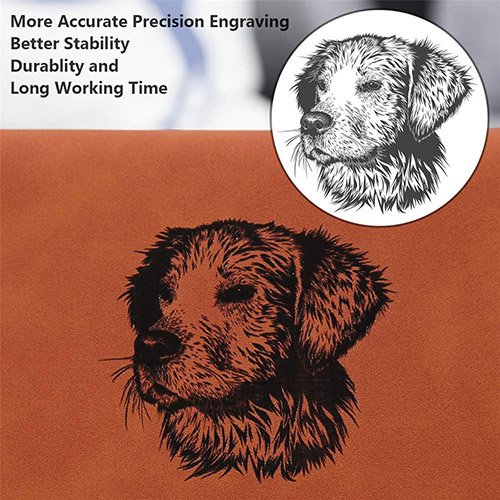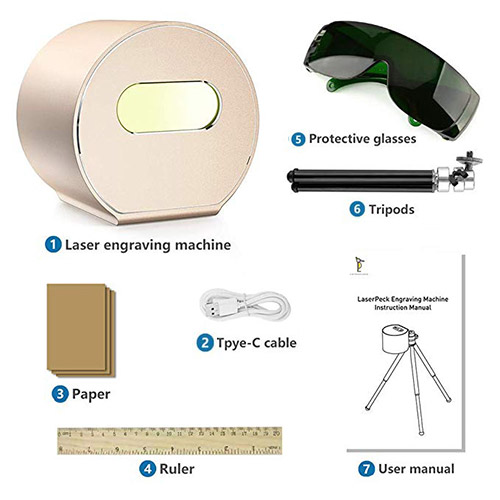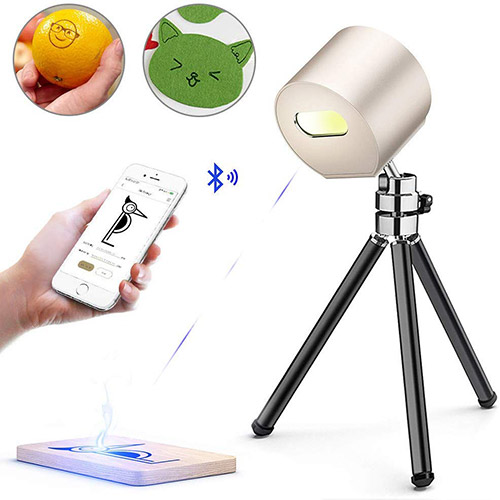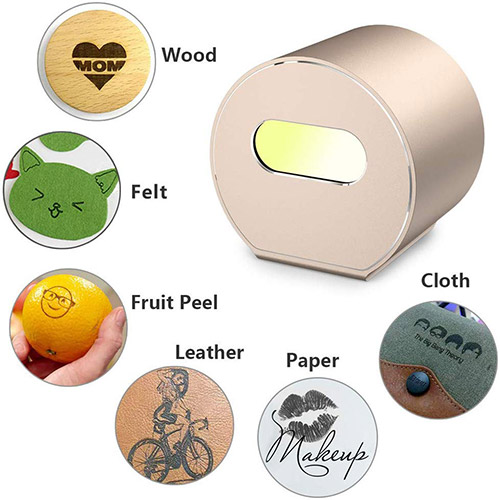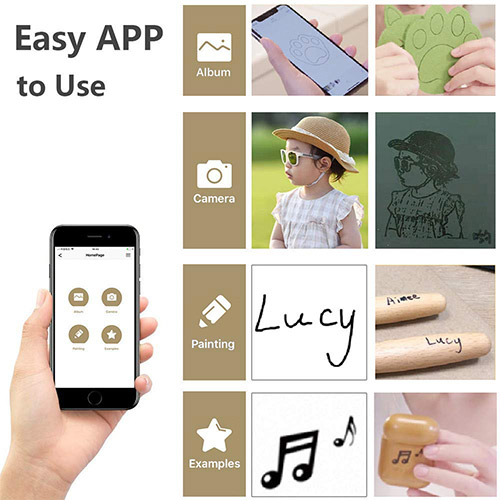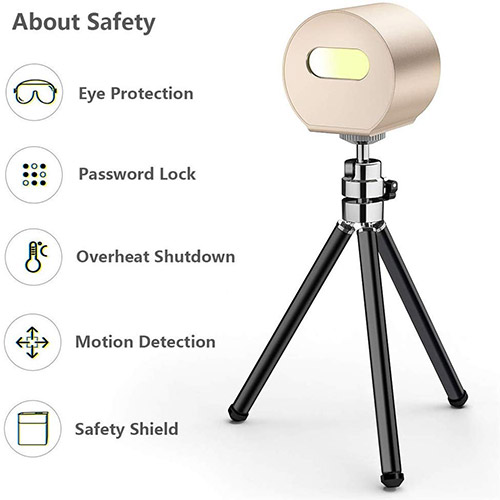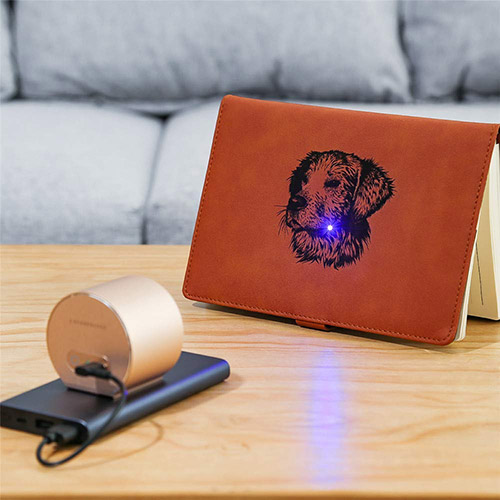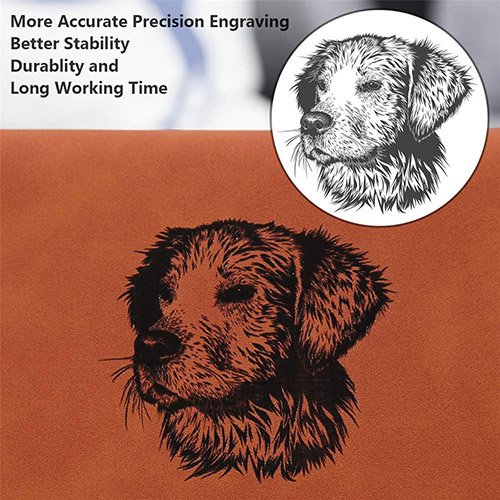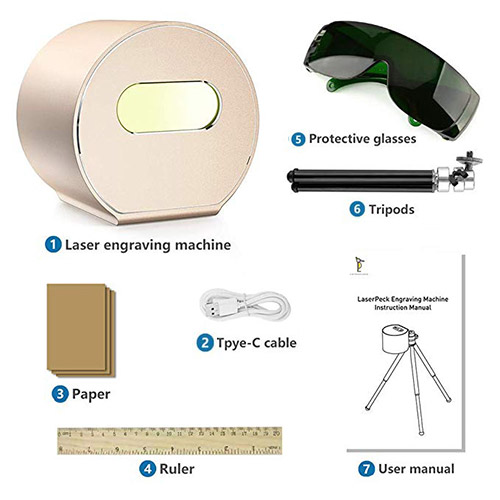 1600mW High Precision DIY Laser Engraver Cutter Art Craft Printer Desktop Mini Cutting Machine Carved Wooden Paper Plastic
Free Gifts For Orders Greater Than $100 - One green laser pointer
Processing Time: Ships in 24 hours
Shipping Time: Expedited Express 8-12 business days
This 1600mw Miniature Laser Engraver is of high power and high resolution! Unique frame, weak light automatic positioning and frame positioning make the image positioning easier! Engrave your wedding date on a leather purse for a special anniversary gift or wedding favor, or embellish a small Christmas/Birthday/Holiday wooden card with a lovely engraved design, DIY special cute gifts for your families or friends.Ideal for decorative engraving or personalizing your small items.
Enhanced Version :
1. Compact and lightweight, 190g, about half the size of a Coke can, easy to carry.
2. High-quality laser head, the original 450nm blue laser source from Osram, Germany, with a service life of more than 10,000 hours.
3. Multi-angle engraving with adjustable tripod for engraving products at any angle and height.
4. Laser power: 1.6W; engraving area: 10*10cm.
5. Operation mode: use mobile phone APP, easy to operate, you can DIY any pattern you want to engrave.
6. Materials that can be engraved: wood, bamboo, paper, plastic, leather, rubber, sponge, comb, wallet or other combustible plastic (such as mobile phone case, mouse, pencil, business card, wallet, plastic comb); : metal, stone, jewelry, reflective materials, silver, white paper (astigmatism, poor effect), materials that cannot be burned or focused, such as metal without any coating, light-transmissive plastic, with added flame retardant material
7. Power supply: 5V 2A (computer, charging treasure, USB charger) for power supply operation.
8. Safety certification: CE, FCC, FDA, RoHS, CDRH, IEC 60825-1 (laser level 1), IEC 60825-1 (laser level)
9. Supported image formats: JPG / BMP / DIB / ICO / CUR / PNG / G-code / SVG and other formats are supported.
10. Can be engraved on curved objects.
Laser Engraving Machine Specifications
Color: gold / black
Product size: 6.5*6.1*5.3cm
Product weight: 190g
Packing size: 19.5*20.5*7cm
Total packaging weight: 740g
Best engraving height: the distance between the laser head and the engraved object is about 20cm
Engraving area: 10*10cm
Laser source: OSRAM 450nm blue light, the service life is at least 10,000 hours.
Laser power: 1600mW
Appearance: Aluminum alloy anodizing
Operation: Mobile APP
APP connection method: Bluetooth connection
Bluetooth version: Bluetooth 4.0 and above
APP operating system: support IOS 9.0+/Android 5.0+
Power input: type-c (5V, 2A)
Operating temperature range: 0 ° C ~ 65 ° C
Operating humidity range: 5%~80% (non-condensing condensation)
Safety certification: IEC60825-1 (laser level safety specification), CE, RoHS, FCC, FDA CDRH registration,
IEC60825-1 (laser level 4)
Laser Cutter Package
● 1* laser engraving machine
● 1* tripod
● 1* protective glasses
● 1* ruler
● 2* sample paper
● 1* instruction manual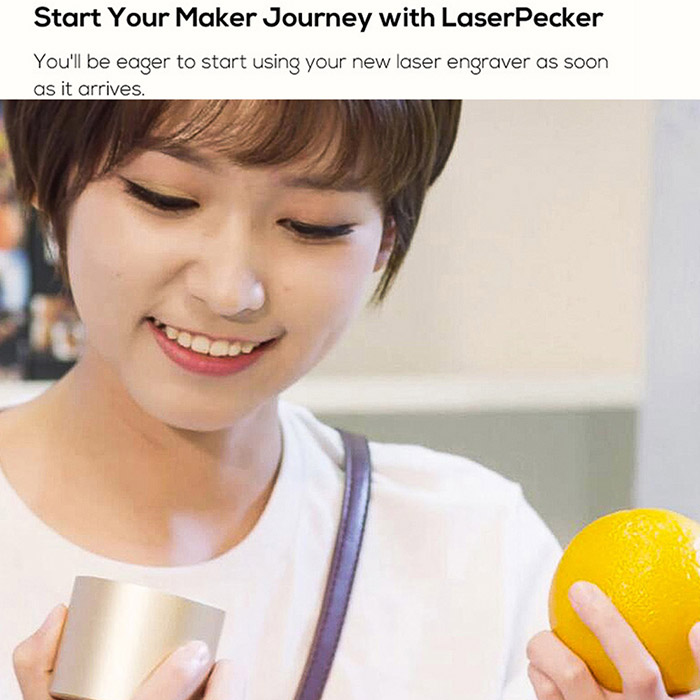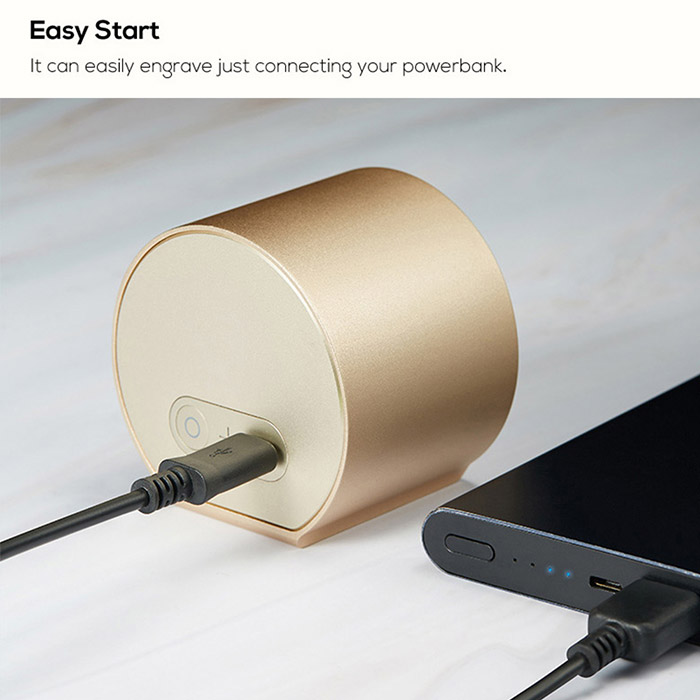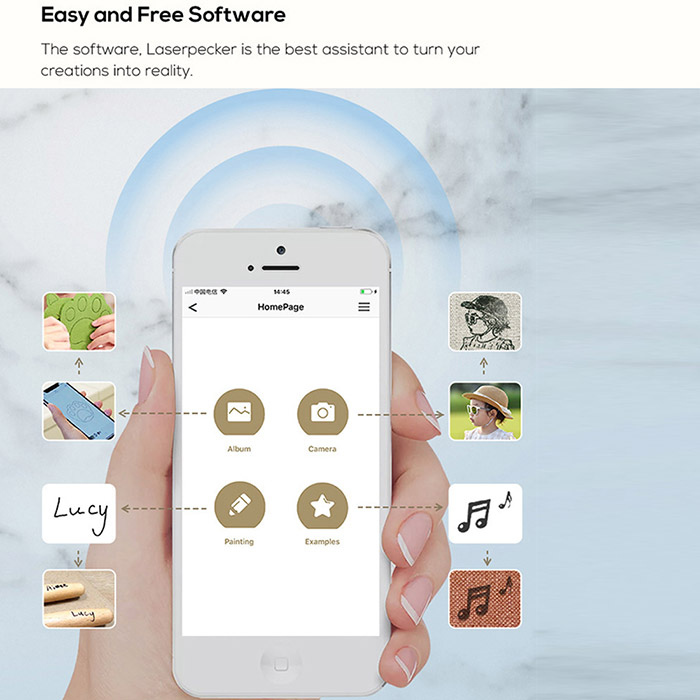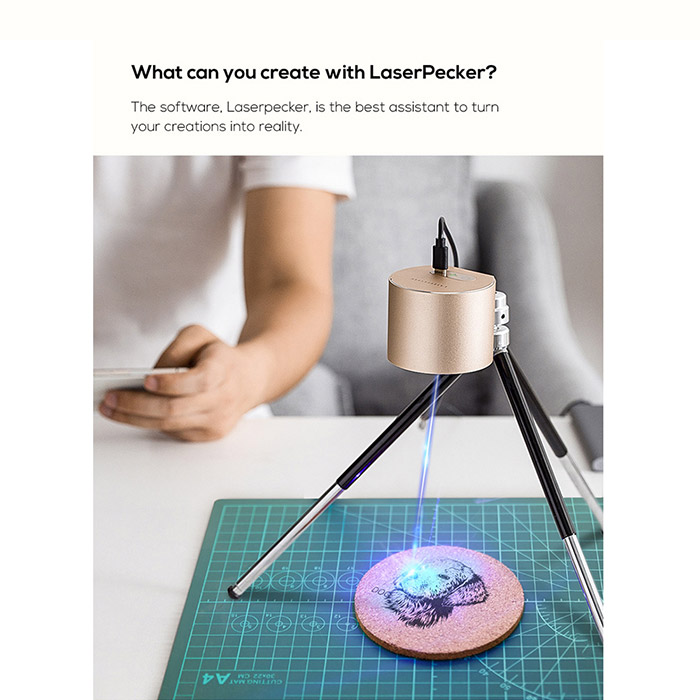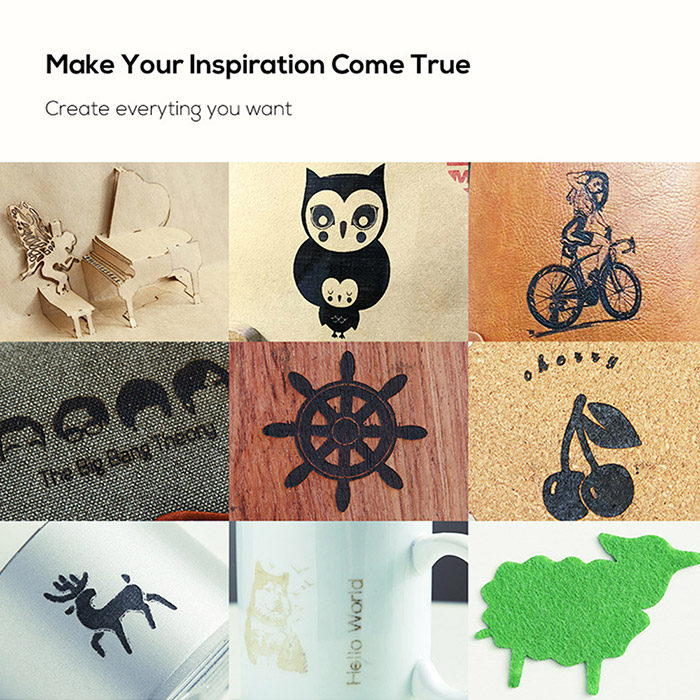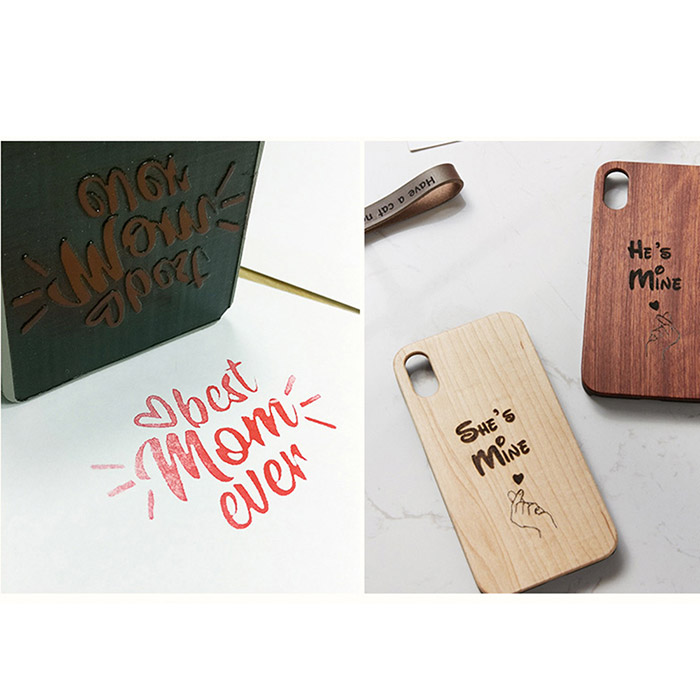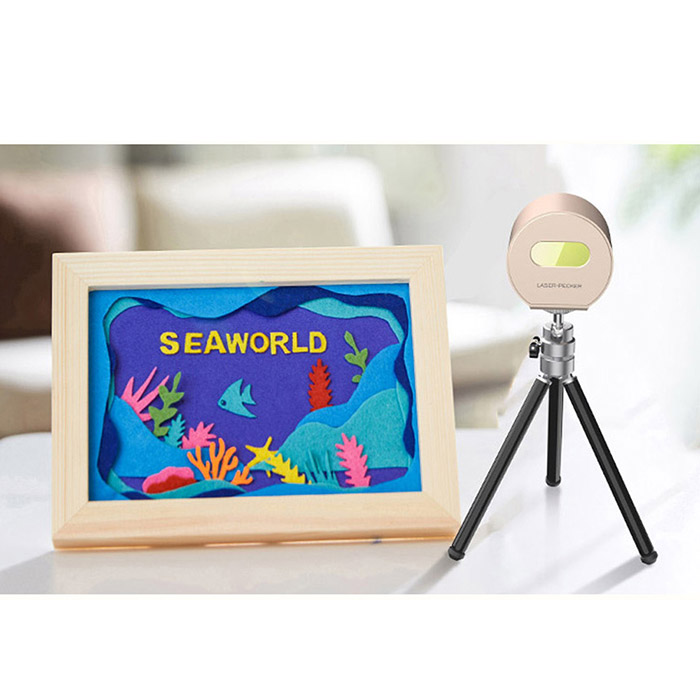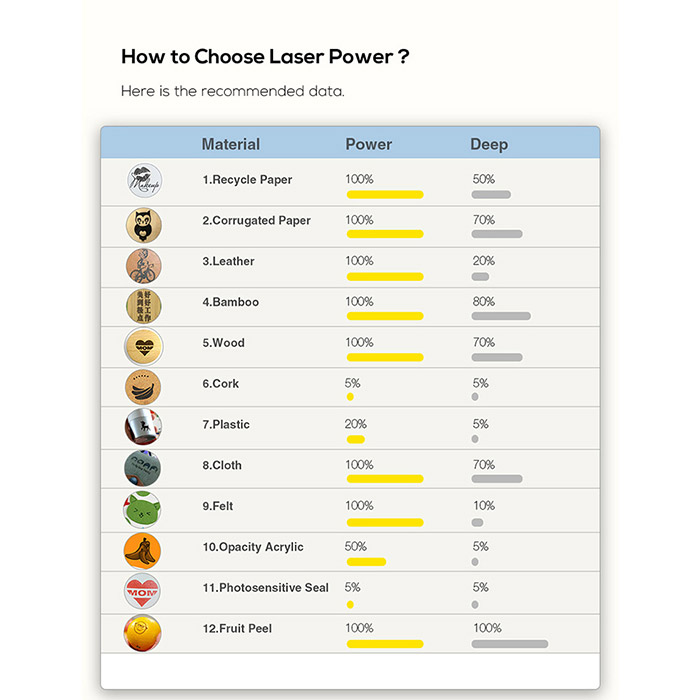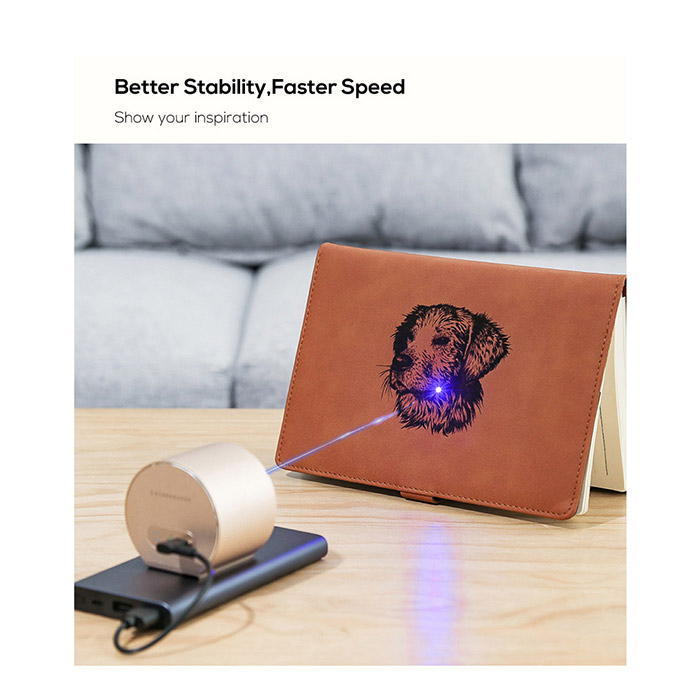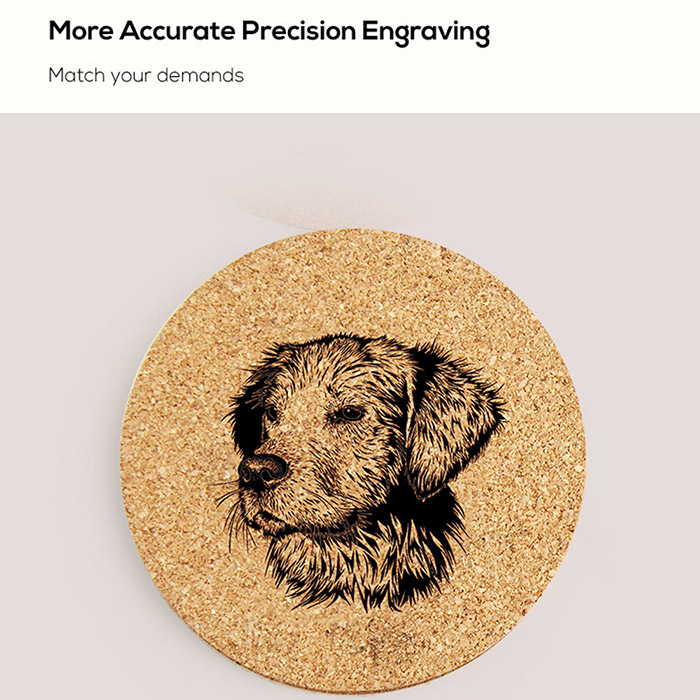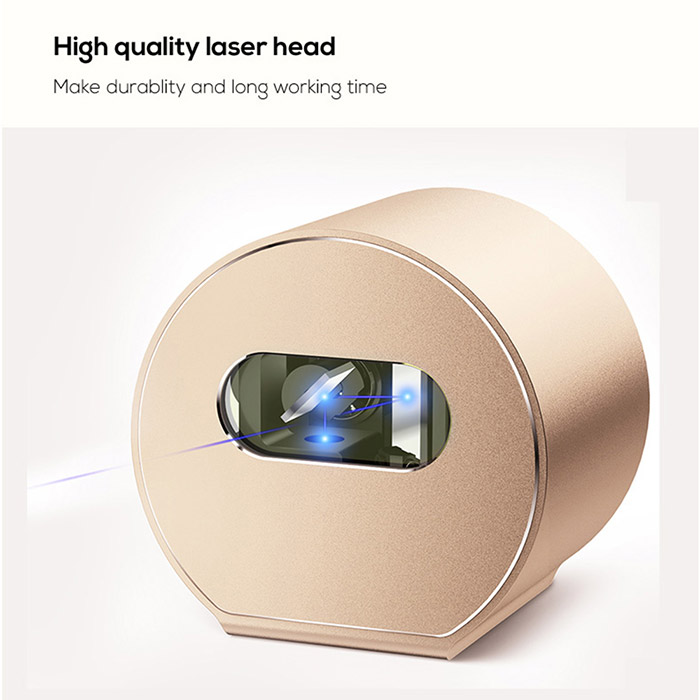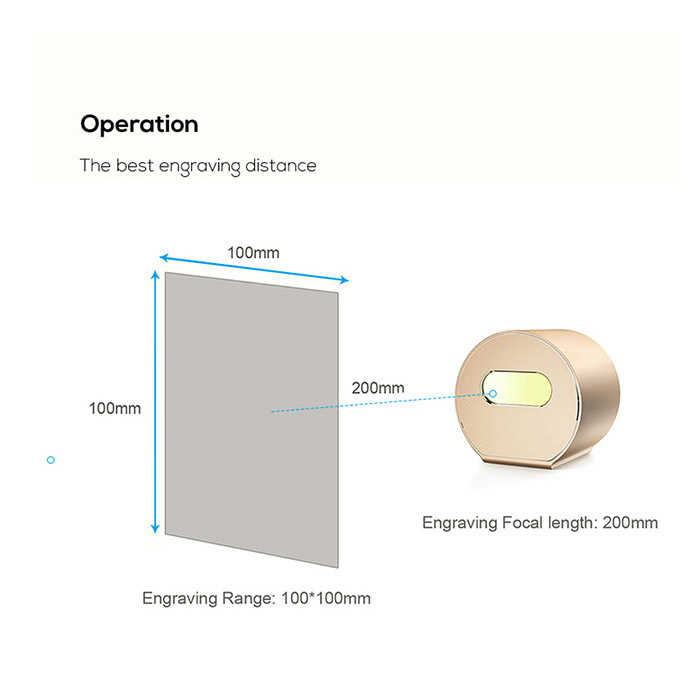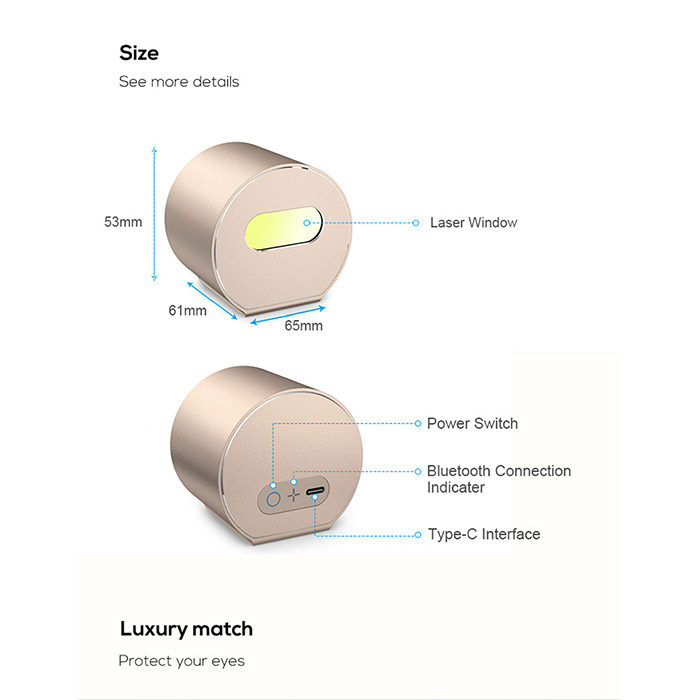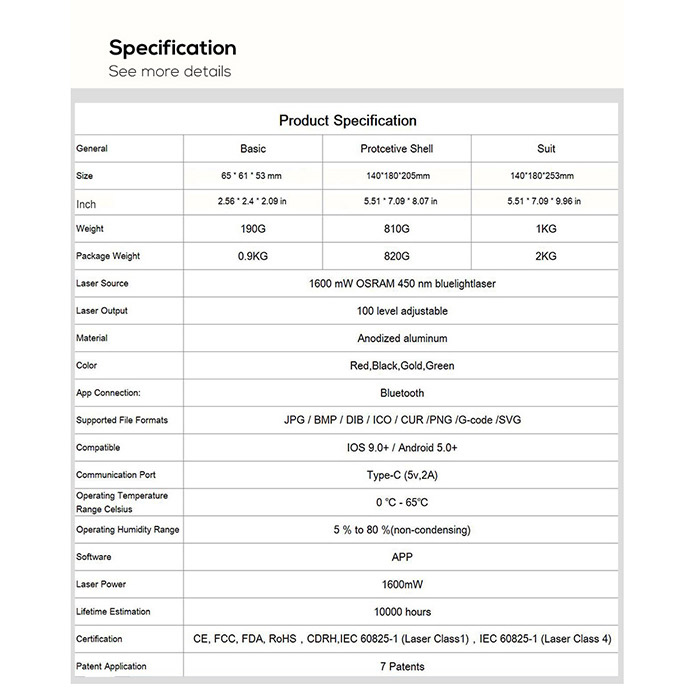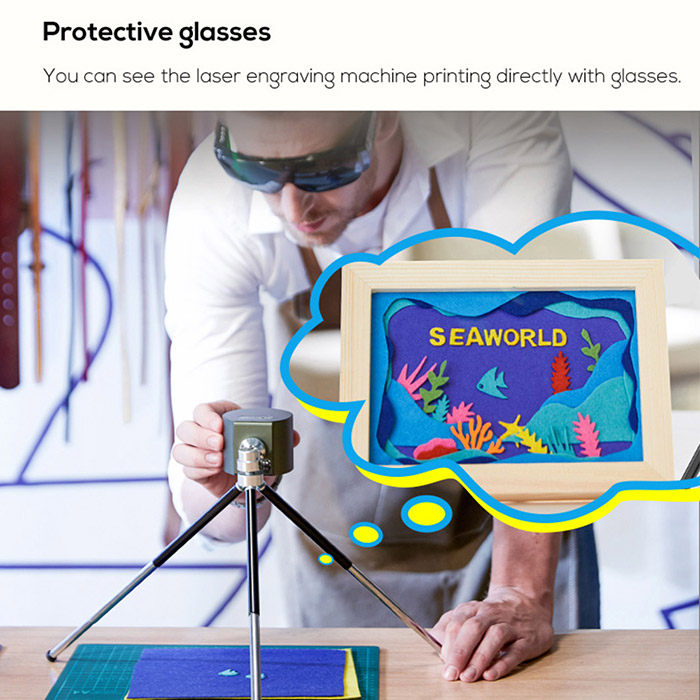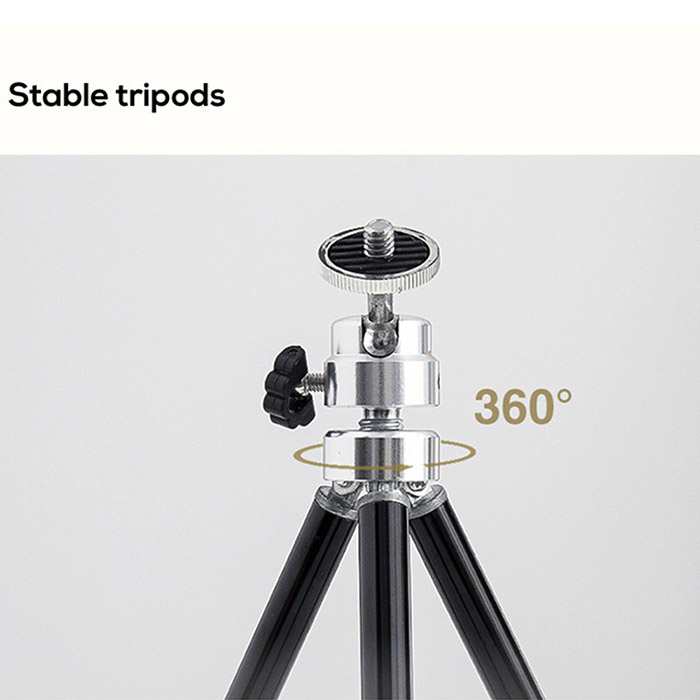 1600mw Laser Cutting Machine Notes
1. Materials that can be engraved: wood, bamboo, paper, plastic, leather, rubber, sponge, comb, wallet or other combustible plastic (such as mobile phone case, mouse, pencil, business card, wallet, plastic comb);
2. Materials that cannot be engraved: metal, stone, jewelry, reflective materials, silver, white paper (astigmatism, poor effect), materials that cannot be burned or focused, such as metal without any coating, transparent plastic, with added resistance Burning materials.
3. Engraving area: 10*10cm
4. Distance between laser head and object to be carved: about 20cm
When you order from htpow.com, you will receive a confirmation email. Once your order is shipped, you will be emailed the tracking information for your order's shipment. You can choose your preferred shipping method on the Order Information page during the checkout process.
The total time it takes to receive your order is shown below:

The total delivery time is calculated from the time your order is placed until the time it is delivered to you. Total delivery time is broken down into processing time and shipping time.
Processing time: The time it takes to prepare your item(s) to ship from our warehouse. This includes preparing your items, performing quality checks, and packing for shipment.
Shipping time: The time for your item(s) to tarvel from our warehouse to your destination.
Htpow.com offers two different international shipping methods:
| Shipping To | Shipping Methods | Delivery Time | Rates |
| --- | --- | --- | --- |
| | Expedited Shipping | 3 - 5 Business Days | $15.00 |
Note: The shipping time mentioned above refers to the estimated time of business days that the shipment will take after an order has been shipped. Business days do not include Saturday/Sunday and any public holidays. These estimates are based on normal circumstances and are not a guarantee of delivery times. We are not responsible for the failures or delays in delivery resulting from any force majeure event, such as natural disaster, bad weather, war, public holidays, customs issues, and any other event beyond our direct control.
* Expedited shipping can not be used for PO Box addresses
* Do not disassemble the product, or the consequences will be conceited.

Return Policy:
It have 7 days free replacement for our products. as long as there is any quality problems in our products, but not including man-made damage and disassembly, we unconditionally replace the new product.
I spent a laser pen and bought two colors. I can also ignite it. It can be so beautiful, it's worth it
I bought this laser as a birthday gift for my father. He can use this to light a cigarette. He really likes it..
I had to give htpow 5 stars. I once bought a product on Amazon that is exactly the same as this engraving machine. Although the price is cheap, the quality is poor. It didn't take long to damage. When I looked for Amazon seller theory, they did not immediately solve my problem. It is to find various reasons to shirk responsibility. So I searched for htpow for a long time, the price is a little more expensive, but the quality is very good. I have used it for 4 months and 5 days. There are no problems. And their service attitude is very good. I am very satisfied. If you also like to DIY your artwork on the object. This engraving machine can definitely meet your needs. I highly recommend! !
I had to give this little laser engraver 5 stars because it does what it is suppose to do just the way it should. It is a small engraver, please read the details, many buyers seem to not realize that it does a small area. From opening the box to engraving took me about 20 minutes. This included installing the laser, followed by installing the drivers on my Windows 10 laptop. I had no glitches as I was able to take the image I wanted, and drag and drop into the provided software and start engraving. There is a bit of a learning curve as far as the burn time in relation to the type of material being engraved. I have used simple cardboard, wood and even engraved the back of a phone case. The machine does a beautiful job on leather. The biggest downfall (aside from the small size) is the instructions. There isn't much to go by. There is a video I watched before purchasing, which ended up being very helpful when I was setting it up and using it for the first time. The one bit of advise I have: Make sure the computer you are using doesn't go into hibernate mode in the middle of a longer engraving session. This will cause the engraver to stop and there is no way to start back where it left off as the program will also shut down. Overall it is definitely worth the money I spent! I will provide photo's of some items in the near future.
I use this engraver to cut my logo into small round wooden disks that I embed into my projects. It does a great job. If my business does well I may eventually but a more powerful laser so that the wooden disks can be cut out at the same time. For now this engraver serves my purpose nicely.
Product arrived on time and nicely packed. Instructions were in broken English, but easy enough to decipher. Minor trouble getting the computer to recognize the device due to my not following the order of installing things, but only took a few minutes to fix. Product is pretty amazing and as marketed. Neat little laser engraver, great product of the price.
Laser burned one nice image than stopped working. . customer service mailed a new one Asap. works great I love it
Been playing with this for a few days. For the price as a hobby machine it can't be beat. Recommend practice piece of material you are using it on . Start with power low you can always increase and hit re-carve button.
Software came in the guitar. I use it a lot by preloading an image onto the device and having it run, which works great. 4 stars because the software seems to not work as expected on windows 10 when hooked up to the device and freezes a lot.
For a very inexpensive laser, I think this is a great product. I wish the instruction manual had more suggestions on how to best control the carving time, etc. It take a good amount of playing around to get the settings right to cut the best image. I also don't understand why the software is flagged by my anti-virus software - I think this also could be addressed, but overall it's a nice laser to play around with for just over a hundred bucks.
I absolutely love the small machine!!! Warning... the manual that comes with the product is awful! And FYI the guitar isn't a sample it has the program USB on it! Lol
I really love this thing. It was very easy to set up. I am using it to make custom wood gift tags. The directions are terrible. The English is pretty bad. A video on how to put together the laser is included on the USB drive, just follow that. The software is pretty straight forward. I do wish there was more info included about general laser settings for different materials. You will need some trail and error. The biggest annoyance is that the power cord is too short. This is meant to be a desktop unit, but the power cord is way too short to really find a convient spot on my desk. I have been pulling it down to the spot where it reaches the power the best and still have to stretch to power cord tight.
The unit does do what it says and was very easy to set up. It comes preassembled for the most part all you have to do is put 2 screws in to mount the laser. Tried it right out of box and the software worked great and the unit worked great. Now we will be trying it to Laser engrave some painted metal tags, It says it should work on that, So we will give it a try since thats really what we bought it for.. Ill put an update to this once we try it on them and see. The picture of it is really deceiving it looks much bigger on the picture its about the size of a small coffee maker. Yes I know I could have just looked at Measurements and would have known that. Any how if it does the painted metal or sprayed metal as it says then I will give it the 5 stars. Oh I do want to say it seems VERY well put together for the $200 price tag it's worth it I think!
It came with everything needed to get started. The software was installed in less than a minute and, since then, it has been working without many issues. It does seems to have a hard time if your picture has a circle outline or border but only if it's the outermost perimeter of the entire image; circles within the image look fine. I haven't played with calibration yet so that may fix the issue. Be prepared to do your own learning with this as the "manuel" (front cover label - lol) is only partially through the language barrier. There really isn't much to this little guy and it is a lot of fun to find pictures, watch them engrave and dream of projects in which to showcase them. I also bought a pack of 1"d x 1/8" wood discs to burn my logo into then inlay into my other projects. With this price, it's low risk so pick one up and see where your creativity takes you!
I was able to start engraving in only 45 minutes. That includes installing the software and printing out the manual.