2000mw Blue Laser Pointer 445nm Flashlight Starry Laser Lens Kit Included
Price:$288.57
HTPOW is a professional laser products online store, all of our products are 100% brand new and Free Shipping! Express Expedited 3-5 Business Days.
Product Description:
Powerful enough, starry patterns, portable, adjustable focus,chargeable, all these characters are developed in this 2000mw blue burning laser pointer. With 2000mw output power,it can light matches or burst balloons instantly! Meanwhile, making stunning visual effects with the included lens kit, five different patterns to help to create gorgeous atmosphere. It will suit all your demand for the power by adjusting focus.Besides, 16340 rechargeable battery ensure this laser pointer's long life.Is it amazing? Click and order now!
2000mw Blue Laser Pointer Specifications
Body Color: Black
Output Power: 2000MW
Power: 2 * 16340 Batteries
Wavelength: 445nm;
Start time ≤3 seconds
Operating Voltage: DC7V
Size: 30 * 210 mm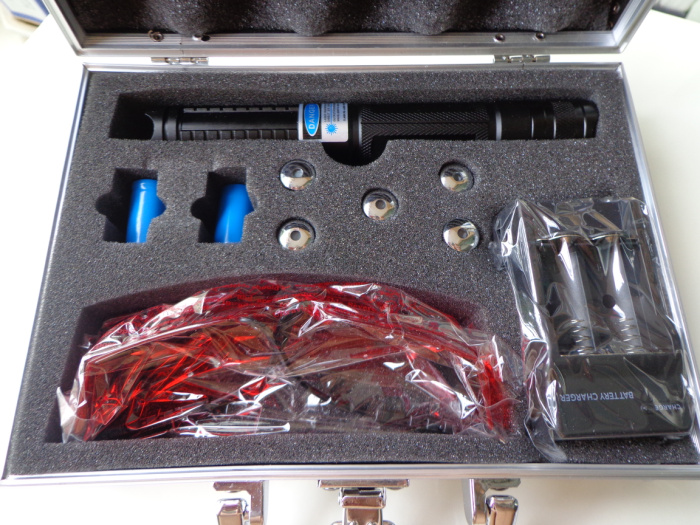 Package
2000MW burning laser pointer X1
Safety Goggles X1
16340 batteries X2
Starry pattern caps X5
Charger X1
Advanced aluminium carrying box X1
Notes:
◆Never run powerful laser pointer continuously over 1min, you should turn it off for 30s before run again.
◆Don't allow the laser beam pointer to enter the eyes. The laser beam is harmful to eyes, any contact will cause permanent damage.
◆Don't look directly with your eyes or using binoculars and other equipment to observe the laser beam on the remote control.