Product Description:
This 200mW 532nm Adjustable Focus Green Laser Flashlight is a good guide for your traveling, and a good tool for pointing to the faraway target and sending out the SOS signal.This green laser pointer has an incredible output power of 200mW and can burst balloons in a fraction of a second, light matches and light up an entire room.The sight of the beam from this model is absolutely incredible. It can be used as an astronomy laser pointer.
Features
●Well tested and high quality green laser pointer
●Adjustable focus, continuous output
●Using long lifetime chip, more than 8000hours
●Clearly visible in the dark
●Constant on/off switch
●Simply press the button to activate the green laser pointer and release it to deactivate
●It's more convenience that use laser point to the target instead of hands
Specifications
Beam Color: Green
Light Style: Kaleidoscopic
Wavelength: 532nm
Output Power: 200mW
Power Supply 1 x 18650 3.7V Battery
Switch: Constant on/off switch
Material: Aluminum
Body Color: Silver/Black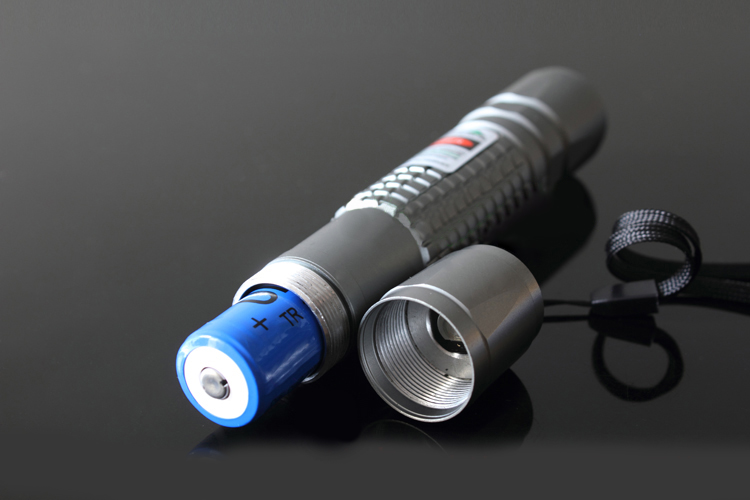 Packing List
1xManual
2xRechargeable 18650 Batteries
1XCharger
1XGift box
1X Laser pointer
Notes
Never look directly into the laser beam.
Never point a laser beam in the direction of any person, vehicle, aircraft, or wildlife.
Do not aim the laser beam a reflective surface as the reflection might inadvertently strike an individual.
Avoid using laser pointers near an airport or airport runway approach.
Do not allow children to use laser pointers (we would advise this even if under the supervision of an adult).