Product Description:
This 500mw Portable Laser Pointer is for people looking to reach the limits of portable laser technology. Its complex circuitry, high quality c-mount diode, and pristine craftsmanship and design including a handful of safety features make this one of the most sought after laser in the market today.
Features :
● Advanced Laser diode. Manufactured by OSRAM or NICHIA is encased in a sturdy aircraft grade aluminium shell that is hard anodized in black.
● Focus adjustable optics.Adjust the laser's beam divergence with just a twist of a knob.
● The outer case doubles as an effective heat-sink that helps dissipate heat buildup.
● Safety features include a mechanical aperture shutter, key switch, remote interlock connector, 3-5 second delayed output, LED emission indicator, and clear proper warning labels.
Specifications
| | |
| --- | --- |
| Laser Color | Red |
| Laser Wavelength | 650nm |
| Laser Output power | 500mW |
| Light Style | Beam Light |
| Power Supply | 1x18650 or 2x 16340 Rechargeable Batteries |
| Dimensions | Φ38mm x 205mm |
| Weight (without batteries) | 334g |
| Transverse mode | TE |
| Power consumption | 3.7V, 1A – 2A |
| Duty cycle | 10 minutes on, 10s off |
| Operating Temperature | -10 ~ +40 ℃ (14-104℉) |
| Storage Temperature | -10 ~ +45 ℃ (14-113℉) |
| Warranty Time | 12 Months |
Package
1x 500mw Red Laser Pointer
1x Battery Charger
1x Keylock Keys
1x Remote Interlock
1x Metal Case
Product Photos: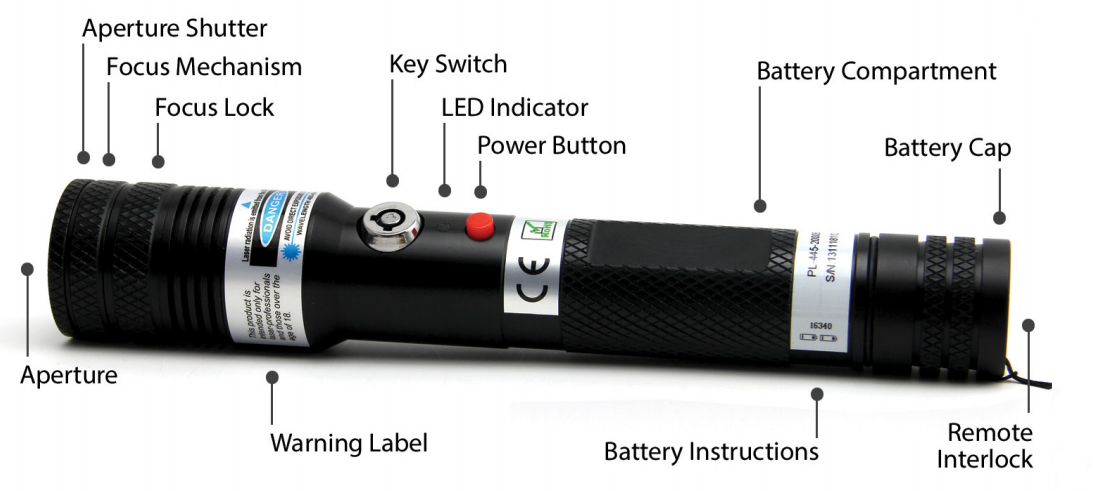 Use Tutorials:
Notes :
1. Avoid direct or indirect contact with the eye or skin.
2. Always point the laser away from you and anyone around you.
3. Always wear laser safety glasses when working with this laser.
4. Do not point the 500mw laser pointer at reflective surfaces such as a mirror or window.
5. Do not look at diffused reflections without proper laser safety glasses especially against a white or light colored background.
6. Do not allow children to operate a laser even if supervised.
6. Remove the batteries, lock the laser, and close the aperture shutter when you are no longer working with the laser.
7. Do not point a laser at moving motor vehicles or aircrafts. This will cause momentary blindness to the driver or pilot putting potential hundreds of passengers at risk.