30mW 405nm Purple Laser Pen 5 in 1 Blue-Violet Starry Laser Pointer 5 Lens Included
Price:$28.90
HTPOW is a professional laser products online store, all of our products are 100% brand new and Free Shipping! Express Expedited 3-5 Business Days.
Product Description:
This 30mW 405nm Mid-Open Blue-violet Laser Pointer is small and exquisite, portable and with richer applications. Covered with high-quality material, it is sturdy and durable in use. Fine craftsmanship makes it smooth to hold. This professional laser pen is easy to operate.The laser pointer is a good guide for your traveling, and a good tool for pointing out the faraway target or stars and sending out the SOS signal, making your travelling fan and interesting. It's truly amazing light show, you'll be surprised with that many stars fill your space. This blue-violet laser pointer is also the best gift for friends and families.
Specifications
Laser Color Purple
Laser Wavelength 405nm
Laser Output Power 30mW
Laser Range 500m
Power Supply 2 x AAA
Switch Mode Button
Operating Voltage DC3V
Working Temperature -10°C-40°C
Storage Temperature -10°C-40°C
Body Material Copper
Body Color Black
Weight 46g
Features
●New and high quality
​●It's more convenience that use laser point to the target instead of hands
​●Lightweight and handy design, it is very convenient to put in bags or pockets
​●Perfect for teachers, professors, doctors, managers, engineers and so on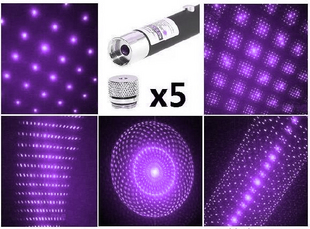 Package
1x 30mw Purple Laser Pointer
5x Starry Pattern Lens
2x AAA Batteries
1x Pretty Box