Product Description:
Featuring portable and manually controlled, Laser Pointer enjoys a high reputation in wide fields, such as education, business. This 30mw 405nm Blue Violet Laser Pointer Starry Laser Pen is just one of laser points on our website. Covered with high-quality material, it is sturdy and durable in use. Fine craftsmanship makes it smooth to hold. This professional laser pen is easy to operate. You will notice a beam of strong purple light sending out from the laser pen. With such a portable tool, you can point at any object even from the far. How do you feel like it? Just press the "Add to Cart" and then you will easily possess such an adorable appliance.
Technical specifications
Laser Color Blue-violet
Laser Wavelength 405nm
Laser Output Power 30mW
Power Supply 2 x AAA
Switch Mode Button
Operating Voltage DC3V
Working Temperature -10°C-40°C
Storage Temperature -10°C-40°C
Body Material Copper
Body Color Black
Weight 45g
Packing list
1x 30mw 405nm blue-violet laser pointer
5x Starry pattern caps
2x AAA Batteries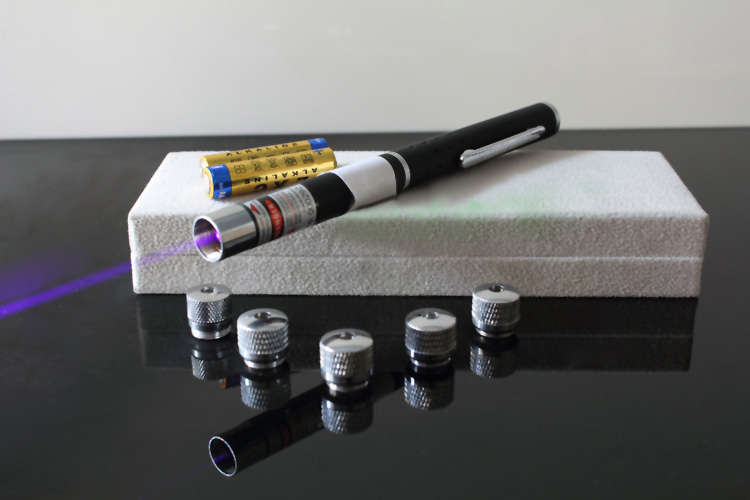 Laser Pointer Notes:
▲Never point your
burning laser
at another person, especially their face.
▲Never under any circumstances look directly into the laser beam. Even if it is a low powered laser pointer, you don't want to take chances with your eyes
▲Always be conscious of and aware of reflective surfaces such as mirrors, polished metal or glass. A reflected beam can also harm your eyes.
▲Only use laser pointers in a controlled environment
▲Do not let other people use your laser pointer unless they are fully aware of the dangers of laser pointers
▲Laser pointer beams can go for miles so never randomly use your laser pointer outside