Hot Tags:
303 laser astronomy laser pointer cat laser pointer keychain laser pointer
HTPOW ARES laser pointer is is built from the ground up for continuous high-power operation.This series of laser offers power levels of up to 30 W at 532 nm / 650nm / 445nm / 405nm. The machined aluminum heat sink dissipates excess heat generated in the laser cavity and keeps the ARES running at a 100% duty cycle.ARES laser brings laser light at higher powers into a portable module, at much lower prices than previously possible. Here is the ARES Laser Pointer: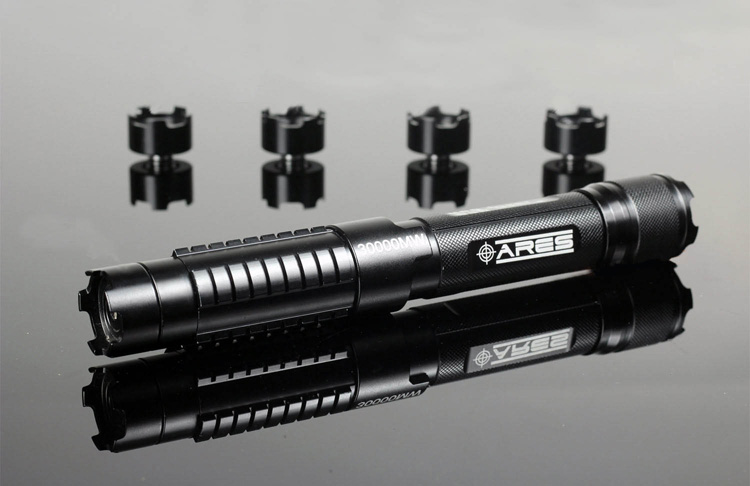 ARES lasers come equipped with our patented focus adjustable optics where you can adjust the laser's beam divergence with just a twist of a knob.The size of ARES laser pointer is as follow: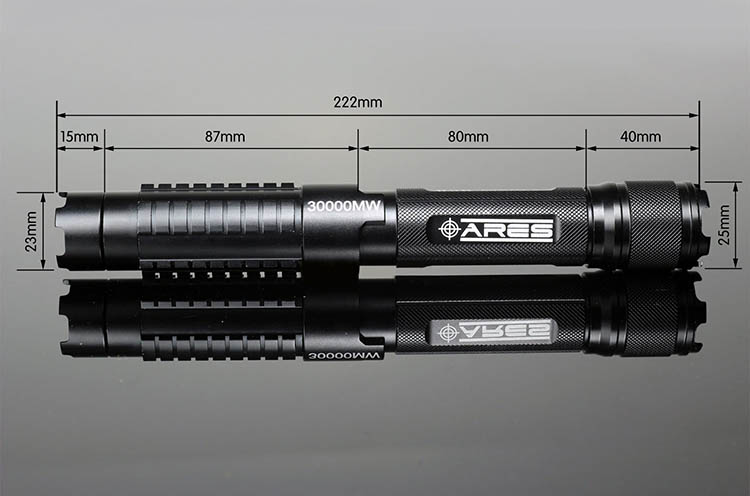 HTPOW offers you this kind of high power laser pointers with different of beam colors ( green laser pointer , blue laser pointer , violet laser pointer , red laser pointer ):
HTPOW 2000mW 650nm Red Laser Pointer Pen High Power 5 in 1 Starry Military Laser Flashlight
The ARES Laser Pointers Specifications:
| | |
| --- | --- |
| Laser Color | Green / Blue / Violet / Red |
| Laser Wavelength | 532nm / 445nm / 405nm / 650nm |
| Light Style | Beam Light |
| Beam Distance | 26000-33000 ft (8000-10000m) |
| Switch | Push Button Operating |
| Class | Class 4 |
| Operation Voltage | DC 3.7V |
| Body Material | Aerospace Aluminum |
| Product Weight | 700g |
| Operating Temperature  | -10 ~ +40 ℃ (14-104℉) |
| Storage Temperature  | -10 ~ +45 ℃ (14-113℉) |
| Body Color | Black |
| Warranty Time | 12 Months |
Features:
● Stable performance in continuous operation.
● High standard safety design.
● The best cooling system to assure stable performance.
● Low energy consumption and high efficiency.
● Wide application in high-tech fields.
● Strong laser with strong power.
ARES Lasers provide the most visible and brightest output power in presentation work of lab experiment, scientific research, astronomy celestial observation, construction and mining, lecture, education and laser display etc.Lasers are not toys, they are very powerful devices that emit a strong coherent light. Therefore, all ARES lasers we offer are equipped with features that ensure your safety and making sure the laser cannot be operated when in the wrong hands.The structure graphic of a standard laser pointer pen, it's consist of the host, batteries, pump LD Driver and Laser Module. Laser module is the key part of the whole device, mostly you need to buy it from some notable manufacturers, for example, DPSS. The DPSS Laser Module is consist of pump diode, pump focusing lens, expanding lens, collimating lens and IR filter.
ARES Laser Packing List
1x Laser Pointer
1x Laser Goggles
5x Star Pattern Caps
1x Charger( with batteries)
1x Aluminum Box
Free Gift: 1x 8 in 1 Pattern Cap + 1x Laser Sword